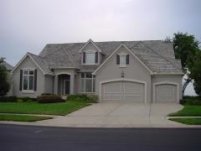 Paint it beautiful.....................
Our workmanship doesn't stop with just painting
All of our equipment is put away at the end off the day. We leave no mess.
We are considerate of your personal property and handle it with care.
We protect all areas from paint that are not to be painted.
We don't leave your home until you're satisfied.
All work is pre-scheduled and completed efficiently and execution continues
uninterrupted 6-days a week, weather permitting
We are also considerate of your neighbors.
The Painting Process
The prep work is ½ of a job. And unless handled properly, the paint will inevitably fail sooner than expected and cost the homeowner more money.
These are just some of the ways National Painting prepares different surfaces on your home:
Paint scrape all peeling paint areas.

Prime all bare wood with oil base paint.

Primer on all bare metal surfaces.

Clean all mildew or moss areas with TSP (Tri-sodium Phosphate).

Caulk all cracks.

This is why it is important to have us paint your home.
When you're SERIOUS about painting your home, Call Us for a free estimate.





National Painting
Kansas City, MO 64141
816-413-9227


Site designed by National Publishing, Inc.© 1998-2003 All Rights Reserved.